Ask Beata is a brand new service provided free of charge to all spa therapists and their managers.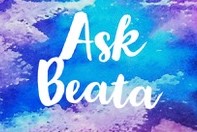 Beata Aleksandrowicz offers interactive sessions using Facebook Live where industry professionals can join the conversation to ask questions and hear the feedback from other participants – to expand knowledge and understanding in the wider world of wellness and wellbeing. The next session will take place on 5th July at 12.30 UK time (GMT + 1).
To take part simply go to: www.puremassage.com/ask-beata where links are found to register free and also to ask questions in advance of the session.
Some topics that Beata expects to discuss include:
​Workplace wellness
Changing the perception of massage
Self-care routines
How to recognise and prevent burnout
Signature massages
Injury-free techniques
Authenticity in the spa
Profit vs people
The future for therapists
Sexual harassment
What advice can I give and what is the red line?
I first met Beata at the 2017 Global Wellness Summit in Kitzbühel where we discussed the importance of treatment quality over luxury and location – something we both feel passionately about. Beata is an expert on massage and healing and is the creator of the Pure Massage Training Method. Beata provides spas worldwide with advanced training and she is a powerful advocate on educating people about the importance of touch, massage and spiritual growth. According to her new website one of her leading statements regarding the significance of wellness today is "Taking care of your Therapists". Having recruited globally in the spa industry for 20 years and watched the fast turnover of staff with dismay this seconds what I have always tried to point out to employers. I congratulate Beata with setting up her new interactive session for all – offering to share her extensive knowledge free of charge.